UNLEASH YOUR SUPERHUMAN POTENTIAL
TRANSFORM YOUR BODY, IGNITE YOUR SUCCESS!
Are you ready to unlock the extraordinary power within you? Say goodbye to complicated diet plans, endless calorie counting, and restrictive macros. The Superhuman Upgrade is here to revolutionize the way you approach diet and exercise, making it the simplest and most effective program in the world - taught by Fraser Bayley an industry leading nutritionist to the top 1%
FOR THE HIGH ACHIEVING ENTREPRENEUR 
We understand that your time is valuable.
That's why we've designed The Superhuman Upgrade to be straightforward and hassle-free. No more tedious calculations or restrictive eating patterns.
In fact, you'll likely be eating more food than ever before.
Our nutrition program provides you with easy-to-follow guidelines that will nourish your body and fuel your journey to greatness.
But we don't stop at nutrition alone.
Our program includes an intense workout routine that will push your physical limits and unleash your true potential.
Get ready to sculpt your physique, build strength, and boost your energy levels to new heights.
With each session, you'll feel yourself becoming stronger, more resilient, and ready to conquer any challenge that comes your way.
WHAT'S INSIDE THE SUPERHUMAN UPGRADE PREMIUM MEMBERSHIP?
Here's everything that's included in a "PREMIUM" membership
Revolutionary, Easy-To-Follow Nutrition Plan
This IS NOT your typical FAD or Yo Yo diet. In fact, getting into the best shape of your life is actually REALLY EASY. Imagine not having to count calories, track macros, log food into confusing mobile apps. Just a straight up approach with life changing results.
Efficient, Time-Saving Workouts
Experience the ultimate workout plan crafted to be swift, simple, and incredibly effective for muscle building and weight loss. Say goodbye to endless hours at the gym and hello to a smarter, time-efficient approach to fitness.
Comprehensive Supplementation Guide
Unlock the full potential of your mind and body with this comprehensive guide, revealing the exact supplements Fraser Bayley takes daily for peak performance, vibrant health, and lasting longevity.
Daily Motivational Content
Get exclusive access to a daily voice message packed with game-changing tips, tricks, and inspiration! Fraser will give you an insider's look at how he achieves extraordinary results every single day. Designed to empower you on your journey to becoming the ultimate 2.0 version of yourself.

PREMIUM ONLY!
Travel-Friendly Success Strategies
Discover the secrets to staying fit and healthy on-the-go with our exclusive "Superhuman Travel Protocol." This invaluable training is specifically designed for those who lead a busy life on the road or just love to travel, ensuring you maintain a balanced lifestyle without sacrificing your goals.
PREMIUM ONLY!
Superhuman Bloodwork Blueprint
Learn how a simple blood test could literally be the key to unlocking your true potential - giving you the keys to your all new 2.0 superhuman version of yourself!
PREMIUM ONLY!
The Superhuman Upgrade Affiliate Program
The ultimate superhuman affiliate program - Get 50% Commissions on the world's most effective nutrition and workout plans - Give 100%, Gain 100% - Get paid to transform your life!
PREMIUM ONLY!
OVER 15+ YEARS OF HELPING 1000's OF PEOPLE ALL OVER THE WORLD BECOME THE BEST VERSIONS OF THEMSELVES!!
YOU DON'T HAVE AN INFORMATION PROBLEM, YOU HAVE AN APPLICATION PROBLEM (SOLVED)
As a member of The Superhuman Upgrade, you gain exclusive access to our Closed Facebook Community—a supportive and empowering space where like-minded individuals gather.
Engage in weekly livestreams, participate in Q&A sessions, and connect with a network of alumni who have already transformed their lives. Some have lost over 100LBS!

With their guidance and collective wisdom, you'll find inspiration, motivation, and invaluable insights to not only accelerate your progress but to hold you accountable.

Bye bye application problem! .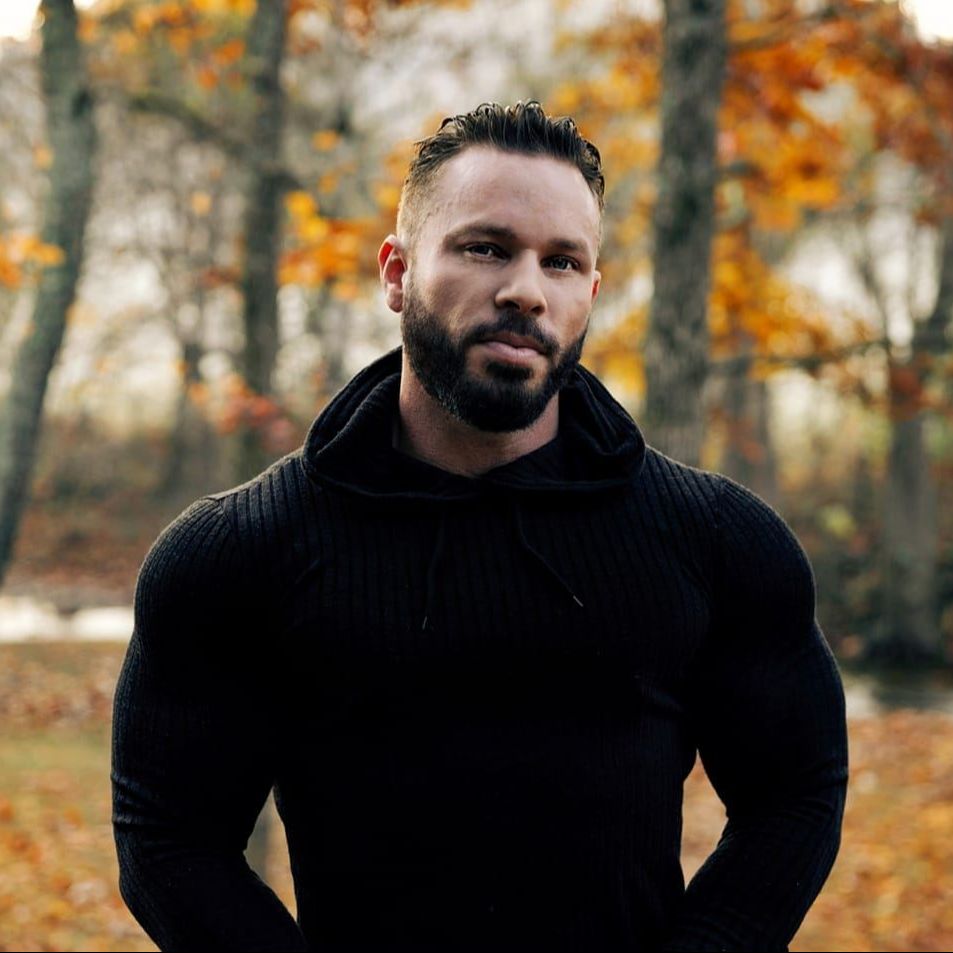 MEET FRASER BAYLEY
Fraser Bayley is an industry leading nutritionist to the top 1%.
He has coached & mentored the likes of famous American Idol Musician Chris Daughtry, to super successful entrepreneurs such as Tim Bratz and Mark Evans.
Working with students in the top of their industries from Veterinarians, Corporate bankers, US Specials forces, Police & Swat, Pharmacists, Medical doctors around the world, Black belt martial artists and Silicon Valley Tech Savants.
The spectrum is broad, but they all have one thing in common. The desire to be the top 1% in skill, health and career.
Having spent over a decade heavily medicated for Bipolar disorder, ADHD & severe anxiety & depression. Fraser set out to unearth the biological drivers to become SuperHuman.
He studied Nutrition & Human Structure & Function at the Auckland University of Technology.
Which spring-boarded him into the world of performance & health optimization.
Now, 12 years medication free - Fraser has put decades of research to practical use and continues to guide and mentor students from all around the world on how to create the 2.0 SuperHuman version of themselves.
Where they look their best. Fat loss comes easy. Muscle building maximized. All the while they feel and think at a level most people cannot comprehend.
This opens the doors to achieve all kinds of things in their personal lives & careers. Fraser's multi-systems approach to health - understanding endocrinology, neurobiology, strength training, nutrition & biofeedback is an entirely different level of the game and for this reason he is known as the Concierge nutritionist to the top 1% charging upwards of $50K for coaching blocks.
BUT HERE'S THE REAL SECRET...
The Superhuman Upgrade is not just about physical transformation.

By embarking on this journey, you'll unlock doors you never thought possible.
As you create the ultimate 2.0 version of yourself, your newfound vitality and confidence will spill over into every aspect of your life.
You'll experience a ripple effect, positively impacting your business, relationships, and overall well-being.
Imagine the possibilities.
By transforming your body and reclaiming your health, you'll become a force to be reckoned with.
The energy, focus, and mental clarity you'll gain through The Superhuman Upgrade will supercharge your entrepreneurial endeavors, propelling you towards unparalleled success. You'll shatter limitations, exceed expectations, and become a true leader in your field.
Don't settle for mediocrity when greatness is within reach.
Embrace The Superhuman Upgrade today, and witness the extraordinary transformation that awaits you.
It's time to unleash your inner potential, rewrite your story, and create a life that exceeds your wildest dreams.
Take the leap into greatness.
The Superhuman Upgrade is waiting to guide you on a life-altering journey.
LEARN HOW TO TRANSFORM FROM THE AVERAGE 1.0 AND BECOME THE BEST 2.0 SUPERHUMAN VERSION OF YOURSELF
Better Libido
Better Sleep
More Effective Muscle Building
WE HAVE SOME BONUSES FOR YOU!!
BONUS 1: RECEIVE A PERSONAL MESSAGE FROM FRASER EVERY DAY ON TELEGRAM - ($588 VALUE)
I have a special gift for you guys.
A private SuperHuman Think Tank telegram channel.
Where I will drop daily audio messages (sometimes multiple times per day)..
They may be around mindset, habits, routines and so much more.
A few years back I realized that information.
AKA a plan (diet, workouts etc) is only ONE part of the equation..
It's often an application issue.
People struggle to actually DO the thing..
For a range of reasons - which I will talk about in the telegram audios.
The value of this is SO big.
The time you do take absorbing my daily message..
It WILL change the way you act, execute..
it will change your self belief.
It will change the way you see your challenges.
Superhuman Upgrade students will get special access just for joining our tribe!
But if someone asked me THE ONE variable in my coaching that changed the game more than anything..
More than a special supplement
Or food
Or workout
It is hands down..
THIS.
Let me transfer that mental kinetic energy to you.
And then you use it to go out into the world and be that SuperHuman that you and everyone around you NEEDS you to become!
BONUS 2: GET EXCLUSIVE ACCESS TO AN IN-DEPTH VIDEO TRAINING ON THE SUPERHUMAN BLOODWORK BLUEPRINT ($297 VALUE)
Learn how a simple blood test could literally be the key to unlocking your true potential - giving you the keys to your all new 2.0 superhuman version of yourself!

Burnout, lack of focus, inability to achieve flow states, lack of energy are just a few pitfalls that make it virtually impossible for entrepreneurs & high achievers to reach their true potential.

In this video series, Fraser will go into depth about what blood markers are some of the most important to pay attention too. If you are serious about becoming superhuman, using your bloodwork to maximize your results will get you to your goals with lightning speed!
BONUS 3: GET EXCLUSIVE ACCESS TO OUR PRIVATE SUPERHUMAN COMMUNITY ($249 VALUE)
When you sign up for The Superhuman Upgrade, you will get exclusive access to our private Community on Facebook.

I'll be in there answering questions, going live from time to time to check in on you and will share some value in there that you just won't see me post anywhere else!
Do you want me to be honest with you though... The real value with this community is YOU.

They say we are the average of the 5 people we spend the most time with. Hang around 5 rich people, you will be the 6th.

What do you think will happen if you hung around 100's of super motivated and inspiring people from all walks of life?

That's right, you'll become a person who inspires others to achieve more! Your superhuman transformation will help others just like you get to the next level. A life that inspires others is the epitome or being SUPERHUMAN!
BONUS 4: THE SUPERHUMAN UPGRADE AFFILIATE PROGRAM- GET PAID TO TRANSFORM!!!
Introducing the Ultimate Superhuman Affiliate Program - the game-changing opportunity that empowers you to transform your life, inspire others, and earn impressive income along the way!

Our innovative nutrition and workout programs have been meticulously crafted to guarantee success for everyone who gives it their all.

By joining our affiliate program, you're not only embarking on your own life-changing journey but also helping others unlock their full potential.
Become an advocate for the Ultimate Superhuman lifestyle and enjoy a generous 50% commission on every sale you generate.

This is your chance to make a lasting impact on people's lives while building a thriving income stream.
Don't miss out on this incredible opportunity to combine your passion for fitness and financial freedom.

Best of all, we've created an entire course that shows you how to setup your affiliate account and how to get the most of it! You'll get access with a Premium Membership!!!
BONUS 5: THE SUPERHUMAN UPGRADE GUARANTEE!!
We honestly believe that this lifestyle will work 100% of the time for 100% of the people that give it 100%

So, go through the entire course... Watch every video, post your meals every day, ask for workout critique, show up to the Q&A calls and give this program 100%. 

If you aren't happy with the results after 4 weeks, we will continue to help you until you see results - Up to 6 months for no additional charge. ($2000+ Value)
We know this works and wll for you if you are committed! 

*You must prove to us that you tried. We want to change your life... You have to want it just as much... 
GET YOUR SUPERHUMAN UPGRADE PREMIUM MEMBERSHIP AND BONUSES FOR A FRACTION OF THE COST!!!
Discover the Easiest Nutrition and Workout Plan Ever Created to Effortlessly Transform Your Life In Just 4 Weeks! Once only available to my top tier elite coaching students now available to you!!
Bonus 1: $588
Bonus 2: $297
Bonus 3: $249
Bonus 4: EARN BIG $$$
Bonus 5: Results Guaranteed! 
Superhuman Upgrade $5964 a year
______________
Total: $7098

- GET IT NOW FOR JUST ONE PAYMENT OF $997 -
YES I WANT MY SUPERHUMAN UPGRADE + BONUSES!